April 28, 2021 DIGGING DEEPER ALONG THE TARABALA GOLD TREND
Dear Shareholders:
As we approach the rainy season in Mali, and rather than piecemeal updates, I wanted to provide our stakeholders with an overview of what we have learned from our work since December. This includes comparing the ongoing stream of results we're receiving and explaining how we have set our priorities for the next stage of drilling during the second half of the year.
We began 2021 with an aggressive exploration plan that included a proposed 13,000 metres of drilling across multiple gold trends within our Sikasso Property in southern Mali. Our goal was to identify at least one promising target that would demand extensive infill and deeper drilling through the coming rainy season. As I prepare this letter, Dr. Madani Diallo and the Discovery Team have done an excellent job executing this plan, having completed more than 11,000 metres of drilling to date across ten distinct target areas over a distance of 55 kilometres. They have performed this work on time and on budget and, as we approach June when drill pads for summer drilling would be constructed, I am pleased to report that they have identified two targets which we will be following-up with more drilling.
As we've said, our corporate objective is to identify a commercial gold resource. Of course, to do so requires drilling that will help us to understand the structure and geology extending from roughly 30 metres below surface all the way down to about 120 metres. Strategically, we begin with shallow, air-core (AC) drilling to provide an initial roadmap as we seek to identify the kind of geology and structures that are most likely to host a gold resource. This work includes eliminating weaker areas as much as identifying the most promising ones. Rather than taking a shotgun approach, this allows us to take a focused, rifle approach with the more expensive, deeper reverse-circulation (RC) drilling we use to target the bedrock which may host a gold resource.
We conducted our exploration work during this first quarter, which included soil sampling, geophysical surveys and drilling, on nine of the ten permits that make up the Sikasso property. We have focused the majority of the work on the Tarabala Trend, which includes the Assama, Tarabala, Massala (Main, East and West) prospects. Drilling has encountered mineralization over 4.5 km, with the most encouraging near-surface (depths of less than 50 m) grades and intervals found at Tarabala and the newly identified Massala West prospect. The positive results we've received so far give us confidence that that additional deeper drilling is warranted at both prospects.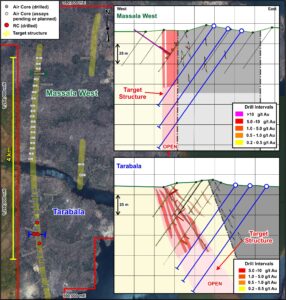 Planned deeper RC Drilling on Tarabala Trend
Drilling pads will be prepared in early June to enable our team to conduct up to 6,000 m of deeper RC drilling at Massala West and 1,800 m at Tarabala during the rainy season. The aim of this drilling program is to provide critical information about the grade, width, and continuity of gold mineralization. In turn, this will allow us to determine whether resource-definition drilling is warranted in Q4.
Meanwhile, the current AC drill program is continuing in the final weeks before the rainy season arrives, with the drill rig currently at the Old Sam prospect. An expedited 2,500 m shallow AC drilling program will follow at Massala West, which remains open for 1.5 km to the north, if pending results are encouraging. Samples from these programs will be added to the queue of samples already being analysed at the extremely busy SGS lab in Bamako. We look forward to receiving all of these results in the coming weeks as we further refine the exciting next stage of deeper drilling on the highly-prospective Tarabala Trend.
Finally, on behalf of the entire Compass team, I would like to thank all of our shareholders. We appreciate your encouragement and support as we continue to work to enhance the value of our shared company.
Sincerely,
Larry Phillips
President and Chief Executive Officer